WeChat Official Account and Video Channel
1.2 Billion Total WeChat User
20 Million Official Account Registered
360 Million Official Account DAU
200 Million Video Channel DAU
Start Now
It infiltrates Chinese people's daily life from talking to friends and families, shopping, booking tickets, browsing information to learning about brand information.
We can not only help you verify your account on WeChat, using non-Chinese business license but also operate and manage WeChat accounts and campaigns for you.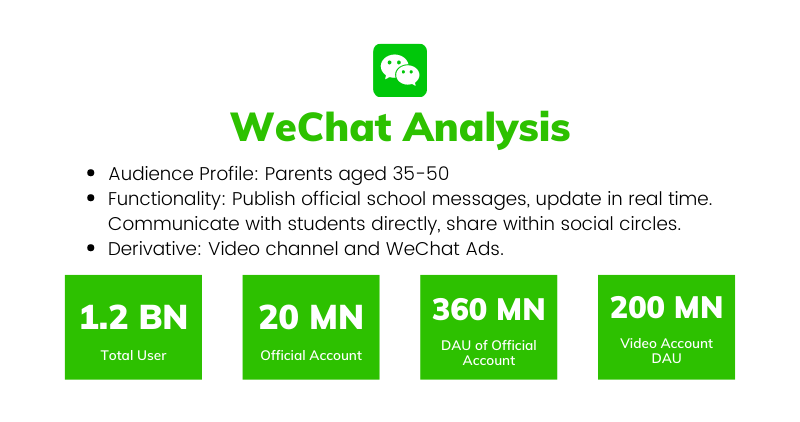 Overview
WeChat currently has over 1.2 Billion active users, making it the platform to reach the most audiences.
WeChat has always been the place that people browse information, read articles, share information, interaction with brands. With the recent development of certain feature, it also becomes a place for brands to increase exposures and build awareness.
We suggest schools using the WeChat Official Account feature and the WeChat Video Channel feature to convey school information, in a way that is more authoritative and cost-efficient than running campaign on WeChat.
WeChat: The platform to target parent population and to post the most authoritative and official school information.